Protect yourself and others from COVID-19
If COVID-19 is spreading in your community, stay safe by taking some simple precautions, such as physical distancing, wearing a mask, keeping rooms well ventilated, avoiding crowds, cleaning your hands, and coughing into a bent elbow or tissue. Check local advice where you live and work. Do it all!
You also find out more about WHO's recommendations for getting vaccinated on our public advice page on COVID-19 vaccines.
Source: https://www.who.int/emergencies/diseases/novel-coronavirus-2019/advice-for-public
---
Adopting a healthy lifestyle can cut down the risks of getting type 2 diabetes.
Here is what to do if you feel sick during a heatwave. 
Stay hydrated
Move to a cool place as quickly as you can
Store your medicines  in a cool place or in a refrigerator
---
Vaccines can protect you from serious illness and death from COVID-19. But DYK that after being vaccinated, you should STILL:
Wear a mask
Keep a safe distance
Open windows
Cough/sneeze into your elbow
Keep hands clean to protect yourself. Here's why:
---
WHO recommends children and adolescents do at least 60 minutes/day of moderate to vigorous-intensity aerobic activity throughout the week. They should also limit the amount of time spent sitting or looking at the screen for recreational purposes.

---
Drinking Water Week
Have you ever stopped to think about how many times a day you use water from a faucet? During Drinking Water Week (May 1–7, 2022), learn more about where your drinking water comes from and what makes it safe to use.
We all rely on safe drinking water, and it's important to know how water gets to our faucets and what makes it safe to use.
Many federal, state, and local organizations work with communities to protect source water, such as lakes, rivers, and groundwater. Protecting our water sources is an ongoing challenge. Stopping sewage from seeping into drinking water sources by repairing broken septic systems and maintaining sewer systems can greatly reduce germs in our source water.
Federal, state, and local authorities also regulate and monitor public water systems to make sure water from these systems is safe to drink.
---
Celebrating a healthy Ramadan in 2022
Here are helpful tips to ensure you stay in good health throughout the month
This year, Ramadan is projected to begin on Saturday, April 2, and end on Monday, May 2 (although dates may vary). More than 1 billion people around the world will be recognizing this Islamic holy month through prayer and dawn to dusk fasting – a spiritual discipline of prayer and reflection.
---
We need to attend to the extra waste generated by the COVID-19 response
To be resilient, green and minimise waste, health systems & facilities must follow the waste management hierarchy :
 prevention

re-use

recycling

recovery

disposal
— sharing a COVID-19 Update.
What is post-Covid fatigue syndrome? UAE doctors explain
Top pulmonologists in the country list out tips to recover from lingering fatigue.
It has been 10 days since you completed isolation after testing positive for the dreaded Covid-19 and are raring to get back to your 'normal life'. Yet, you continue to suffer from lingering fatigue, irritability, and lethargy? There is a high probability you have post-Covid fatigue.
---
With the circulation of new variants, like Omicron, protective measures are now more important than ever to keep ourselves and our loved ones safe from 
#COVID19
.
#DoItAll – Get vaccinated as soon as it's your turn, wear a mask, keep a safe distance, open windows, cover coughs and sneezes and keep hands clean.
Learn more about variants of the #COVID19 virus:
https://bit.ly/3oGGBXp
---
To protect yourself from COVID-19:
Get vaccinated once it's your turn
Keep a safe distance & avoid crowds
Wear a mask
Cough/sneeze into your elbow
Open windows
Clean your hands
---
Omicron is a variant of the virus that causes COVID-19. To protect yourself and others:
Get vaccinated as soon as it's your turn
Wear a mask
Keep physical distance and avoid crowds
Open windows
Cough/sneeze into your elbow
Clean your hands
source: https://www.facebook.com/WHO/photos/a.167668209945237/4951475078231169/
---
It's World Diabetes Day.
DYK: More than 420 million people have diabetes.
You may have diabetes if you:
Need to urinate often
Are thirsty often
Are hungry constantly
Lost some weight
Have vision problems
Are tired
These symptoms may occur suddenly.
source:https://www.facebook.com/WHO/photos/a.167668209945237/4860103817368296
Everyone is harmed by the climate crisis to some degree, but these harms fall first and foremost on vulnerable and disadvantaged population groups
How would you know if you have the flu or COVID-19? Should you take both flu vaccine and the COVID-19 vaccine if these are available to you? How does WHO decide on the composition of the flu vaccine? Dr Sylvie Briand explains in Science in 5 this week.
https://www.who.int/emergencies/diseases/novel-coronavirus-2019/media-resources/science-in-5/episode-59—flu-covid-19
People suffering from chronic conditions have been advised to get a booster shot of the Pfizer-BioNTech Covid-19 vaccine. Dubai Health Authority (DHA) said that those suffering from conditions such as immune diseases should consult their doctor to see if a third dose was necessary.
---
Abu Dhabi, the oil-rich capital of the United Arab Emirates, has made booster doses mandatory for people who were inoculated with the Sinopharm vaccine. 
The Dubai Health Authority (DHA) yesterday announced that they will start administering a third dose of the Pfizer-BioNTech Covid-19 vaccine to certain residents with compromised immune systems.
---
From the moment you leave home to when you return, know the risks and protect yourself every step of the way. This summer do it all to protect yourself and others from COVID-19
Even after getting vaccinated against COVID-19, keep taking precautions to protect family and friends.
People will have to prove they have been screened for Covid-19 to visit many public places in Abu Dhabi, under new rules starting on Tuesday, June 15.
Abu Dhabi: A colour coding system will now reflect the user's vaccination status and PCR test validity on Al Hosn app.
As part of continuous efforts to protect public health, @DoHSocial
is offering a free Sinopharm booster dose to those who received their second dose at least six months ago. The free booster is available by walk-in at any of the 100+ vaccination centres across #AbuDhabi.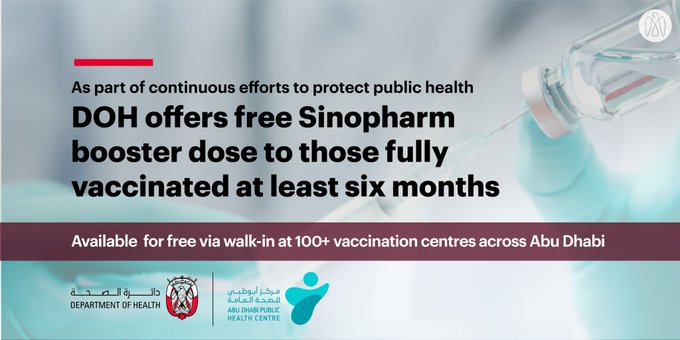 UAE Covid vaccine: Booster Sinopharm shots now available at over 100 centres in Abu Dhabi
Residents in Abu Dhabi who took the second dose of the Sinopharm vaccine at least six months ago are now eligible to receive booster shots. Read More…
What to do to keep yourself and others safe from COVID-19
Maintain at least a 1-metre distance between yourself and others to reduce your risk of infection when they cough, sneeze or speak. Maintain an even greater distance between yourself and others when indoors. The further away, the better.
Make wearing a mask a normal part of being around other people. The appropriate use, storage and cleaning or disposal are essential to make masks as effective as possible.
Here are the basics of how to wear a mask:
Clean your hands before you put your mask on, as well as before and after you take it off, and after you touch it at any time.
Make sure it covers both your nose, mouth and chin.
When you take off a mask, store it in a clean plastic bag, and every day either wash it if it's a fabric mask, or dispose of a medical mask in a trash bin.
Don't use masks with valves.
For specifics on what type of mask to wear and when read our Q&A and watch our videos. There is also a Q&A focused on masks and children.
Find out more about the science of how COVID-19 infects people and our bodies react by watching or reading this interview.
For specific advice for decision-makers, see WHO's technical guidance.