Protect yourself and others from COVID-19
If COVID-19 is spreading in your community, stay safe by taking some simple precautions, such as physical distancing, wearing a mask, keeping rooms well ventilated, avoiding crowds, cleaning your hands, and coughing into a bent elbow or tissue. Check local advice where you live and work. Do it all!
You also find out more about WHO's recommendations for getting vaccinated on our public advice page on COVID-19 vaccines.
Source: https://www.who.int/emergencies/diseases/novel-coronavirus-2019/advice-for-public
---
People suffering from chronic conditions have been advised to get a booster shot of the Pfizer-BioNTech Covid-19 vaccine. Dubai Health Authority (DHA) said that those suffering from conditions such as immune diseases should consult their doctor to see if a third dose was necessary.
---
Abu Dhabi, the oil-rich capital of the United Arab Emirates, has made booster doses mandatory for people who were inoculated with the Sinopharm vaccine. 
The Dubai Health Authority (DHA) yesterday announced that they will start administering a third dose of the Pfizer-BioNTech Covid-19 vaccine to certain residents with compromised immune systems.
---
From the moment you leave home to when you return, know the risks and protect yourself every step of the way. This summer do it all to protect yourself and others from COVID-19
Even after getting vaccinated against COVID-19, keep taking precautions to protect family and friends.
People will have to prove they have been screened for Covid-19 to visit many public places in Abu Dhabi, under new rules starting on Tuesday, June 15.
Abu Dhabi: A colour coding system will now reflect the user's vaccination status and PCR test validity on Al Hosn app.
As part of continuous efforts to protect public health, @DoHSocial
is offering a free Sinopharm booster dose to those who received their second dose at least six months ago. The free booster is available by walk-in at any of the 100+ vaccination centres across #AbuDhabi.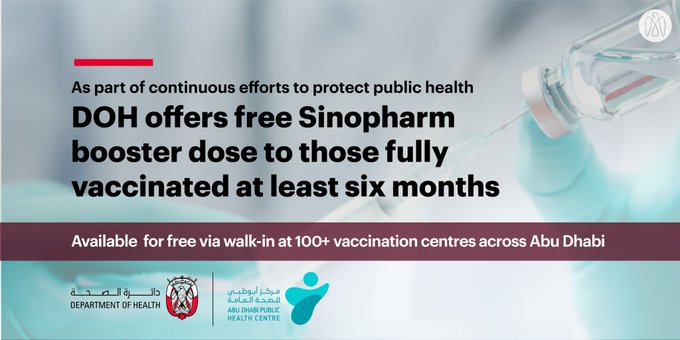 UAE Covid vaccine: Booster Sinopharm shots now available at over 100 centres in Abu Dhabi
Residents in Abu Dhabi who took the second dose of the Sinopharm vaccine at least six months ago are now eligible to receive booster shots. Read More…
What to do to keep yourself and others safe from COVID-19
Maintain at least a 1-metre distance between yourself and others to reduce your risk of infection when they cough, sneeze or speak. Maintain an even greater distance between yourself and others when indoors. The further away, the better.
Make wearing a mask a normal part of being around other people. The appropriate use, storage and cleaning or disposal are essential to make masks as effective as possible.
Here are the basics of how to wear a mask:
Clean your hands before you put your mask on, as well as before and after you take it off, and after you touch it at any time.
Make sure it covers both your nose, mouth and chin.
When you take off a mask, store it in a clean plastic bag, and every day either wash it if it's a fabric mask, or dispose of a medical mask in a trash bin.
Don't use masks with valves.
For specifics on what type of mask to wear and when read our Q&A and watch our videos. There is also a Q&A focused on masks and children.
Find out more about the science of how COVID-19 infects people and our bodies react by watching or reading this interview.
For specific advice for decision-makers, see WHO's technical guidance.