The Abu Dhabi Emergency, Crisis, and Disasters Committee has approved allowing only those vaccinated to enter some public places, after vaccinating 93 percent of target groups in the emirate and to preserve public health.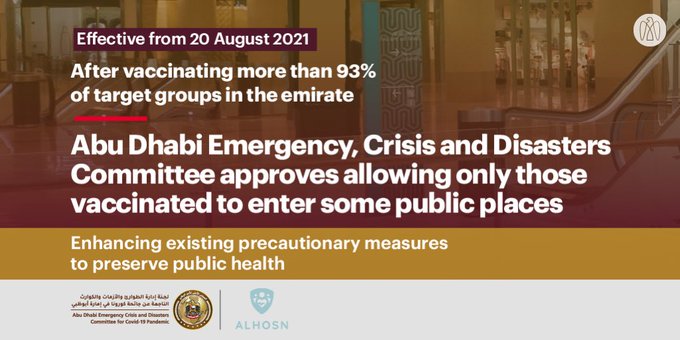 ---
ADDED Introduces Exporter Capabilities to ATLP via "Abu Dhabi Export Gateway"
Platform to Collect Trade Data and Provide Exporters with Tools, Insights to Better Target Overseas Opportunities
The Abu Dhabi Department of Economic Development (ADDED) and Maqta Gateway, the digital arm of Abu Dhabi Ports, part of ADQ, one of the region's largest holding companies with a broad portfolio of major enterprises spanning key sectors of Abu Dhabi's diversified economy, has announced the incorporation of Abu Dhabi Export Gateway as part of the Advanced Trade and Logistics Platform (ATLP).
---
ADNEC launches "Tourism 365" to support the growth of Abu Dhabi as a tourism destination and enhance its regional and global positioning
Abu Dhabi National Exhibitions Company (ADNEC), part of ADQ, has launched "Tourism 365". The new company will create experiential travel opportunities for tourists coming to Abu Dhabi, and enhance the emirate's regional and global positioning in the wider tourism sector.
---
Effective today, 15 June 2021
Approves Usage of Al Hosn green pass for SAFE ENTRY to the malls, hotels, gyms, public parks & beaches, entertainment centers, restaurants, and cafes.
Make sure to have your regular PCR to make your al hosn always updated.
---
---